FAQs
Learn everything there is to know about the MFA requirement, with answers to the most common questions.
View the FAQ >
Documentation
Keep track of when MFA will be automatically enabled and enforced for your Salesforce products.
View the Roadmap >
eBook
What's Top of Mind for Trailblazers
See the MFA requirement issues that customers are asking about the most so you can better understand how you're affected.
View the eBook >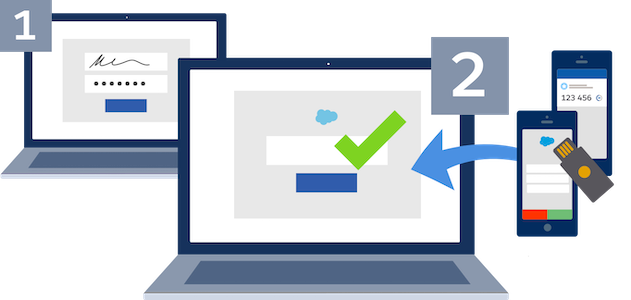 MFA requires a user to validate their identity with two or more forms of evidence — or factors — when they log in. One factor is something the user knows, such as their username and password combination. Other factors are verification methods that the user has in their possession. While there's a risk that a password may be compromised, it's highly unlikely that a bad actor can also gain access to a strong verification method like a security key or authentication app.
Watch Video >
Salesforce MFA for Direct Logins
Salesforce offers simple, innovative MFA solutions that provide a balance between strong security and user convenience. Salesforce products support several types of strong verification methods to satisfy your business and user requirements.
Salesforce Authenticator Mobile App:

A fast, frictionless solution that makes MFA verification easy via simple push notifications that integrate into your Salesforce login process. Use this app in your MFA implementation to increase security while driving a better user experience.

Third-Party Authenticator Apps: Authenticate with apps that generate temporary codes based on the OATH time-based one-time password (TOTP) algorithm. There are many apps available, including Google AuthenticatorTM, Microsoft AuthenticatorTM, and AuthyTM.
Security Keys: These small physical devices are easy to use because there's nothing to install and no codes to enter. Security keys are a great solution if mobile devices aren't an option for your users. Salesforce supports USB, Lightning, and NFC keys that support the WebAuthn or U2F standards, including Yubico's YubiKeyTM and Google's TitanTM Security Key.
Built-In Authenticators: Easy MFA verification using a desktop or mobile device's built-in authenticator service, such as Windows HelloTM, Touch ID(R), or Face ID(R).
Learn More >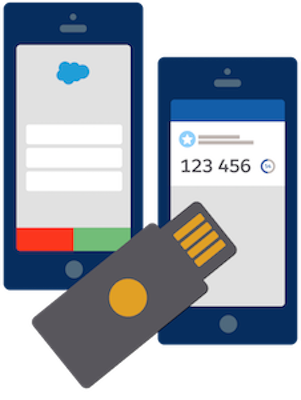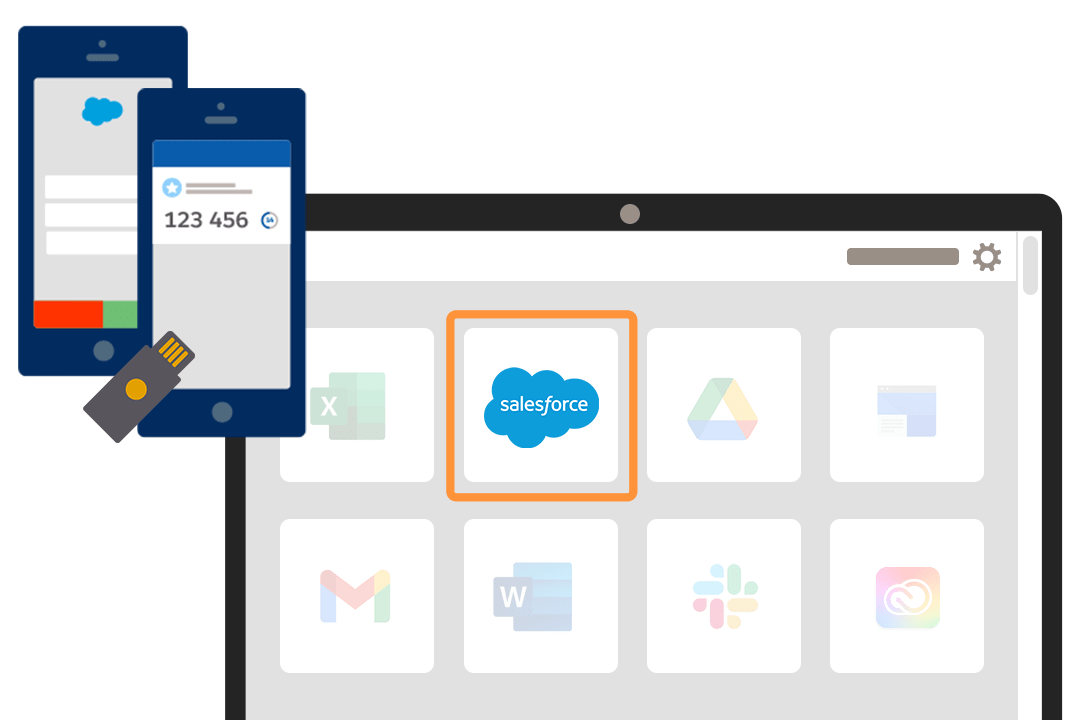 MFA for Single Sign-On (SSO)
Do your users regularly access multiple apps during the course of their day? Your best option is to combine MFA and SSO, so you can deliver enhanced security along with a convenient, simplified login experience.
If you've already integrated your Salesforce products with an SSO solution, ensure that MFA is enabled for all your Salesforce users. You can use your SSO provider's MFA service. Or, for products that are built on the Salesforce Platform, you can use the free MFA functionality provided in Salesforce instead of enabling MFA at the SSO level.
Learn More >
Forrester Consulting Study
The Total Economic Impact of Multi-Factor Authentication from Salesforce
To help customers understand the business benefits of adopting MFA, Salesforce commissioned Forrester Consulting to conduct a Total Economic ImpactTM study. Check out the study for takeaways you can use to make the case for MFA. Want a teaser? An organization may achieve up to 164% return on their MFA investment over 3 years, with a payback in less than 6 months!
For a discussion about key findings in the study, check out this webinar with Forrester Consulting and Salesforce representatives.
Get the Study >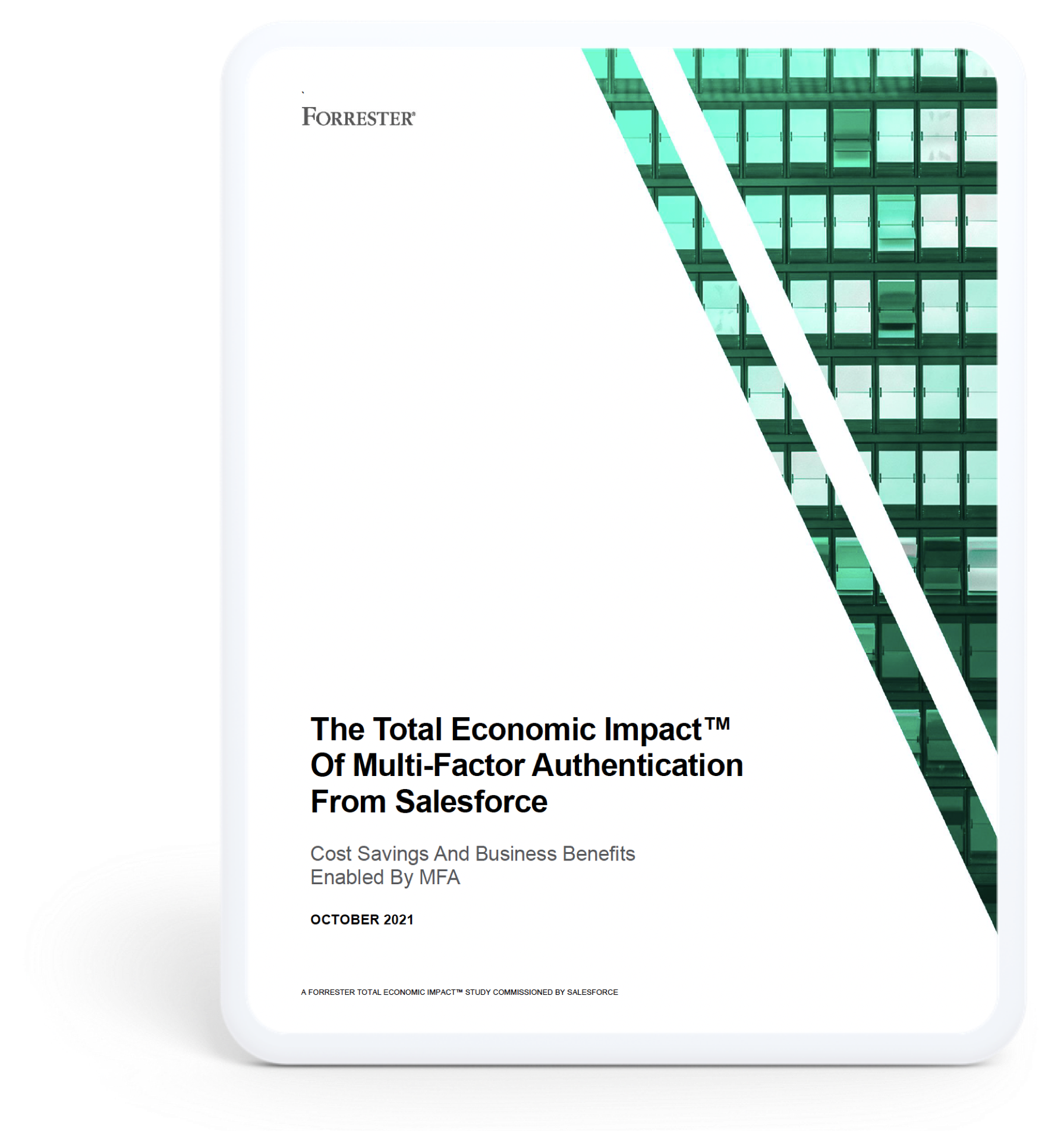 Multi-Factor Authentication Assistant
Your One-Stop Shop for Salesforce MFA
Introducing the Multi-Factor Authentication Assistant for products built on the Salesforce Platform. It's your hub for all the recommended steps, tools, and resources to roll out MFA to your users. From evaluating requirements to launching MFA and driving adoption, the Assistant has you covered.
Learn More About MFA Assistant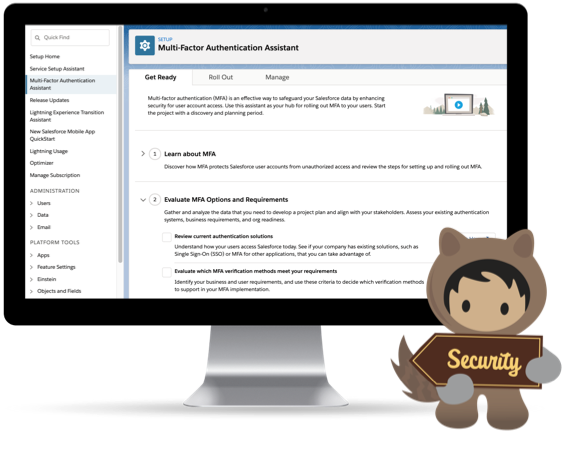 Report a Security Concern
As a leading software-as-a-service and platform-as-a-service provider, Salesforce is committed to setting the standard in safeguarding our environment and customers' data. Partner with us by reporting any security concerns.
Report a Concern